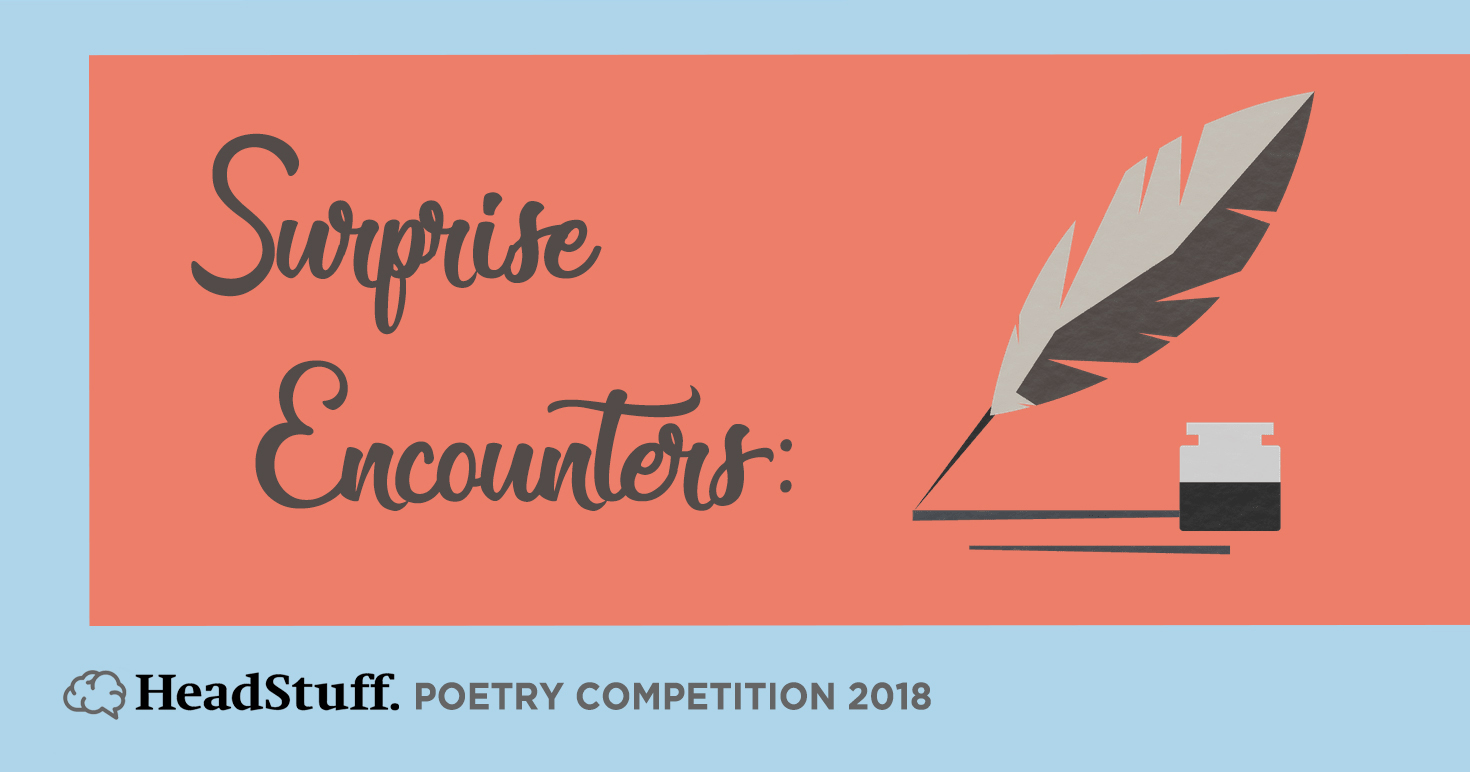 We are looking for surprising poems, and poems that arrest and compel and leave an emotional legacy. National Poetry Day is a great way to show that poetry is a fibre in everyone's life, and speaks to truth that everyone shares.
Erin Fornoff, Judge
Surprise Encounters: HeadStuff Poetry Competition 2018
For Poetry Day Ireland 2018 HeadStuff is launching a brand new poetry competition to celebrate this fantastic day of poetic activity. In 2018 Poetry Day Ireland is on the 26th April with a national theme across the country of 'Surprises', and is being co-ordinated by Poetry Ireland
Our esteemed panel of judges for this years poetry competition are Colm Keegan and Erin Fornoff.
HeadStuff.org would like to invite all poets from around the country, and beyond, to submit poems on the theme of 'Surprise Encounters'.
Poetry can amaze, startle, astonish and surprise, and at HeadStuff we want to celebrate these surprises real or imagined in all poetic life, form and style.
This could be surprise encounters of the science fiction variety; a surprise encounter from revisiting a past memory, or it could even be a surprise encounter with a dog.
Whether there is a poem hiding under your mattress, long collecting dust, or you're new to poetry and writing your first poems, please submit your poem/s to the competition. We would love to read them all.
There are no limits on form, only that there is a maximum of two poems per individual submission and the poems can't be more than 80 lines. Please wherever possible stick to the theme outlined above.
There will be three wonderful prizes on offer to the lucky winners:
1st Prize: €100 sponsored by the University College Cork and a free Weekend Retreat at Anam Cara
2nd Prize: A year's subscription to Ireland Poetry Review.
3rd Prize: A collection of poetry books donated from Irish presses.
There will also be 12 commended poems who will be published on the HeadStuff site. Prize winners and commended submissions alongside commissioned work on the theme will be published.
Submission Timeline
Submissions Open – 26th April
Deadline for Submissions – midnight 1st June
Submission Details
All submissions should be submitted through the google form – HERE
Maximum of two poems per poet.
Maximum of 80 lines per poem
All submissions should be anonymous – your name should not appear anywhere on the document.
Deadline is at midnight of the 1st June at Midnight.
Please stick to the brief wherever possible.
Have Fun!!!
All poems should be submitted through the Google Form HERE

More Information on the Writers Retreat
High on a hillside between Coulagh Bay and the Slieve Mishkish mountains on the Kealincha River awaits Anam Cara, a tranquil spot set apart to nurture and to provide sanctuary for novice as well as experienced people working in the creative arts.  Whether you retreat to work on your own project or as part of a workshop group, you will find support, creature comforts, and peace – all you need to do your best work.An all-inclusive residential retreat, Anam Cara offers private and common working rooms and five acres of walking paths, quiet nooks and crannies, gardens, and meadows
"Hands down, the best part of being Anam Cara's director is getting to know the writers- and artists-in residence (now over 800) and their work.  They have taught me and each other much about the creative process. Their genre/medium may be similar to someone else's, but their approach is always unique and inspirational.  One intention for naming the retreat
Anam Cara
was to provide a space for people who, as they worked with their creative gifts, would recognize the "soul friend" in themselves, in their work, and in others." – 
Sue Booth-Forbes, Director Anam Cara Writer's and Artist's Retreat
Judges
Erin Fornoff
Erin Fornoff hails from the Appalachian mountains of North Carolina. Based in Dublin, she has performed herpoetry at dozens of festivals and events across Ireland, the US, and the UK including Glastonbury, Electric Picnic, Cúirt, and a national Irish tour with viral poet Hollie McNish. She has featured at Hozier and James Taylor concerts and collaborated on a large-scale street art and film project, 'The Volunteers,' with artist Joe Caslin in 2017.  Her poem 'Thigh' was included in Best New English and Irish Poets 2016 and her poem "To Make Things' was commissioned by RTE for national broadcast and performance at Dublin Castle in front of a crowd of 4000. In 2014 she was a part of the Poetry Ireland Introductions Series. She has been published and anthologized in The Irish Examiner, The Stinging Fly, Washing Windows, Cyphers, New Planet Cabaret, The Irish Times, Icarus, Penduline, and many others.  Her poem 'Hymn to the Reckless' featured on posters and curriculum nationwide for Ireland's National Poetry Day. Her poetry and writing has been featured on BBC3 and national radio across Ireland.  She was co-founder and Programme director for Lingo, Ireland's first ever spoken word festival. In 2015 she received an Arts Council bursary for her first novel Better People. In 2014 she received an M. Phil in Creative Writing with Distinction from Trinity College Dublin.
Colm Keegan
Colm Keegan is a writer and performance poet from Dublin, Ireland. Since 2005, he has been shortlisted  four times for the Hennessy New Irish Writing Award, for both poetry and fiction and won the All Ireland Poetry Slam in 2010. In 2015 he was awarded a residency in the LexIcon, Ireland's largest public library. He is a creative writing teacher and co-founder of the Inklinks Project, a creative writing initiative for young writers. In 2011, he was nominated for the Dublin Fringe's 'Little Gem' Award for the spoken word play he co-wrote with Stephen James Smith and Kalle Ryan – Three Men Talking About Things They Kinda Know About – which has toured Ireland and sold out in Bristol, London and Paris. His debut collection, Don't Go There, was released in 2012 to critical acclaim and is available from Salmon Poetry. He was one of the organisers of Lingo, Ireland's first Spoken Word festival. Follow Colm Keegan on Facebook or Twitter