Sorry. I'm so sorry. It's been so long. I won't bore you with why it's been so long but know that I'm sorry. To get us back into the swing of things, this week's Digest is mostly about two big things that have happened in the world of Irish comedy recently, Seamus Hanly's The Middle Finger and Mark Baldwin's End's Meet. Let's go!
1. The Middle Finger
The Middle Finger is a low budget comedy superhero film written and directed by Séamus Hanly. It's about a teen who gets superhero powers and also a Middle Finger head. As you can see from the trailer all your Irish comedy faves like Conor O'Toole and Alison Spittle pop up alongside Séamus but the big news about The Middle Finger is that it's being distributed by Troma. THE Troma films. It's amazing news and as a casual bystander to Irish comedy I'm incredibly delighted for everyone involved. We'll have an interview with Seamus coming up soon but for now go to Troma and watch The Middle Finger.
---
2. Ends Meet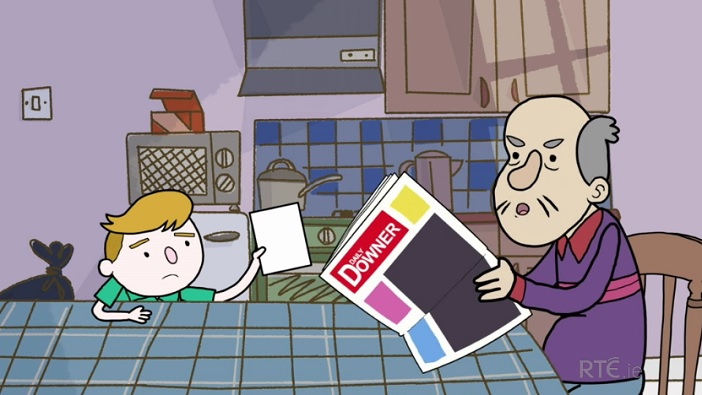 Ends Meet is a short animated series on the RTÉ Player by Mark Baldwin of Silly Beggar Films. It's about three generations of a working class Dublin family, a young boy, his single dad, and his grandfather. It's funny and sweet and it's being made into a half hour show which will be on RTÉ 2 in the autumn. You can watch all seven episodes here and we'll have an interview with Mark Baldwin here on the ol HeadStuff very soon.
---
3. Portraits – Michael Redmond
Portraits is a new series of documentary films about interesting, creative people by Waking Hour Films. The first episode is about Michael Redmond, famously Fr. Stone in  Father Ted, but also one of the best Irish standups ever. He has a bit about Ryan Tubridy that I want to tell you about but I can't so you'll just have to go see him sometime and hope he tells it. Anyway, this is very interesting and beautifully shot and I'm looking forward to the rest of the series.
---
4. How To Be A Good Male Feminist
Men, Peter McGann has an important message for you and maybe the ladies could even learn something from it too? Who knows?
---
5. You Are What You Drink
Our friends the Aunties are back with a thesis to prove.
---
6. STUPID IDIOTS
STUPID IDIOTS  is written, directed, and edited by Stephanie Koenig. Koenig and Brian Jordan Alvarez star as two stupid idiots. That's it. It's fucking amazing. Tell your friends. Watch all four and then thank me.
---
7. Jeff Park
It's Jeff Park baby. By Conor Smith
---
Ok bye now.